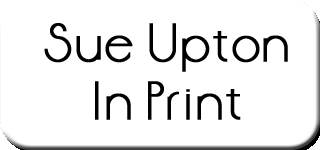 Sue Upton was an important person in Benny Hill's life: not just as the longest-serving Angel, "head girl" to the Angels, and veteran of his stock company, but also as a personal friend. For that reason, no book on Benny would be complete without at least some mention of her.
From the library of the British Film Institute and my own collection, I've excerpted some of the best quotes by and about Sue. I'm pleased to present these excerpts here.

---
Forwood, Margaret. The real Benny Hill. London: Robson Books, 1992.
"Sometimes, though, it was difficult not to take notice of Sue Upton when Benny wrote in all sorts of stunts for her to do, either as Wondergran or some other character. Especially when her bosom blew up. One day she was WonderGirl being chased round by the baddies. The gag was that she turned round, whipped open her cape and fired at them with machine-guns concealed in her bra. 'I was all wired up so I expected a few bangs,' she said, 'but when they came they were not so much bangs as minor explosions. I thought I was about to lose part of my vital equipment.'" (pp. 118-119)
---
Hill, Leonard. Saucy boy: the life story of Benny Hill. London: Grafton Books, 1990.
"Despite his protestations, Benny is no misogynist. He has great affection for women of all ages. One of the closest to him is Sue Upton, head girl of Hill's Angels. Over the thirteen years he has known her, my brother has stayed at her home many times, has become a friend to her husband, Roger, and an uncle to her young children, Richard and Louise. He regularly takes the children on trips, plays Santa to them at Christmas, and has even visited their school. Roger, on the other hand, took on the job of decorating [Benny's] Southampton home. 'Benny has become part of the family', says Sue. 'The children love him. He's always kidding them. When he rings them up, he calls Louise Richard and vice versa. They still find it funny. A few days ago, Richard was writing Christmas cards to a couple of his schoolfriends. He asked me to help him with his card to Benny, the only adult he wanted to write to.'
'We all enjoy Benny's visits because he's such good company and so easy to cater for. He likes all kinds of food. Benny lives and breathes nothing but show-business, of course. The only exception is boxing – and that's a branch of show-business, too, I suppose. I have had to learn about the sport so that I can join in the conversation when the two men watch it on television. I have always loved old movies, but Benny has encouraged me to study the comedies in particular. We chat for hours about them. I think Benny enjoys his stays with us. He's not a great one to express his feelings. But sometimes he says, "When I come again, I'll...", then I know that sharing our everyday family life has been a nice change for him.
'Benny is a sincere, considerate and quiet person. At rehearsals, he is always giving the Angels advice about their careers and their boyfriends. They don't often take it, but I've never once heard him grumble about that, swear, raise his voice, or say a disrespectful word to any of the girls. He's not a bit like the parts he plays. People should remember that he's an actor. Benny is very much a man, of course, and he is attracted to women. But he's a very caring man. Knowing what he's like professionally and in his private life, I have the greatest fondness and respect for him.' (pp. 315-16)
"The cast are expected to be equally dedicated to their work. The smallest, and perhaps the pluckiest, of the Angels, Sue Upton, whom Benny sometimes addresses as 'Uptonogood', is often called upon to make contributions beyond the call of duty. In her time, she has careered down a hill on a tricycle with no brakes, bruised her legs dropping into a pit from a jungle vine, and burned her breasts from the back-fire of an exploding bra. Sue remembers with particular vividness the occasion when, as the indestructible Wondergran, she beat off all attacks by Jekyll, Hyde, and crony, who were disguised as Benny, Bob Todd and Henry McGee. She had to stand, nonchalantly humming, while being subjected to a barrage of huge missiles. Balsa-wood park benches, tables, chairs and polystyrene boulders were all hurled, she says, 'with conviction'. As they crashed into her, poor Sue conveyed the impression that she was impervious to pain. In fact, she was shaken and terrified, but she did not flinch. When Dennis shouted 'Cut!' everybody cheered and clapped her courage. Sue was so relieved that she burst into tears." (p. 331)
---
Jones, Martin. Psychedelic decadence: sex, drugs, low-art in Sixties & Seventies Britain. Manchester: Headpress Critical Vision, 2001.
"CONFESSIONS from a Holiday Camp barely allows the series to limp to an end. It must mean something when the two women you remember most from the film were not even recipients of Tim's French Stick. Glad's giggly mate Reen (Sue Upton) is a cute bundle of glasses and blonde pigtails, but she keeps her kit on." (p. 78)
---
Kirkland, Dennis. Benny: the true story. Hodder, England: Coronet Books, 1993.
"Sue Upton - [Benny's] longest-lasting Angel, undoubtedly his favorite, and ultimately one of his best friends - still vividly remembers being chosen to appear on The Benny Hill Show. She was just twenty years old [...] when she was auditioned by Ben. [...] Her agent sent Ben her photograph and she was invited for an audition at his Queens Gate flat.
She recalls: 'We ended up singing and laughing together as he played the guitar. He seemed to take a great liking to me. It wasn't a casting couch. He was very precise and polite, asking you to sit down, offering you a drink, always the gentleman.'
Soon after hiring her in 1976 Benny said, 'Sue is really funny. Finding pretty girls who are talented and funny is not easy. And not all girl dancers are pretty. Some of them look like me in drag. Sue is pretty and she is funny.'
Benny had such confidence in Sue that he used to ask her to seek out possible new recruits for his show. If Sue thought a girl dancer had that little bit extra Benny was always looking for, he would know she would be worth him talking to.
'Benny is very hard to please, the perfect professional. That is what makes him the superstar he is. I was very nervous when I first met him. But he immediately put me at my ease. He can bring even the shyest person out of their shell. He doesn't especially want big boobs, only if they are suitable to accentuate a certain sketch — like when he leers at them as Fred Scuttle. The girls have to have some intelligence.'" (pp. 128-9)
---
Morecambe, Gary. The Illustrated Benny Hill. London: Elm Tree Books, 1989.
"In the latest shows, as well as many, many others, is one of [Benny's] closest friends, Sue Upton. Sue has worked with Benny for over twelve years. Like most other girls, she went through the auditioning ritual, and she, too, knows about the sexism accusations.
'There are those who say how disgusting it is that he should run around at the end of each show chasing half-naked girls. "They should look again," he once said to me. "It's the girls chasing me." And he's quite right, for fundamentally he has cast himself as the hapless clown."
Discovering that Sue was clearly talented, Benny decided to offer her a more substantial role in the show.
'I was fully made-up one day,' she recalled. 'He said to me, "You know, you've a lovely little pert face. I can just picture you dressed up as some funny old woman."
'We did a sketch where an old lady — me — crosses the road, is narrowly missed by a passing car, then gets bonked on the head by a belisha beacon. It worked well, and overnight I became an old lady.'
They have formed a special friendship. Benny stays with her and her family from time to time, and has had occasion to use her two children, Richard and Louise, in his shows.
The first time he visited her, the house was undergoing an extension. 'We were in a right mess, virtually living in the dining-room. I jokingly told him that there was much work to do on the place, and that it was all right for him, money was no object. It was a bit careless of me really. It embarrassed him a bit. I didn't mean to, of course. Fortunately, he is so well off that it makes it more amusing than embarrassing to recall now.'
Benny is a keen walker, and Sue would take him and the kids down to Southend-on-Sea, where they could walk long stretches of beach.
'He would watch Richard and Louise, laughing and pointing at their antics, while I'd be making him eat chips out of a bag, telling him it was the right thing to do when at the coast.
'Then afterwards he would buy a load of sweets saying, "One for Richard, one for Louise and one for Benny." And he would see me teasingly scowling out the corner of his eye — he has such a sweet tooth. "And what about you, fatty?" he'd smile.'
Sue sometimes feels that because of their friendship, her family has become a substitute for the one Benny never had. 'Benny's a bachelor. He's lived alone for years. He lights up when he visits the kids, and never forgets their birthdays.
'One week when he was staying, he insisted on coming to playschool with me to collect Richard. I told him he could stay in the car. I always choose to play it down when he's around. He comes to relax, not to be put on show for the neighbourhood. "No, no, it's all right," he assured me, climbing out the car. And he followed me right inside, talking to the teachers, parents and kids.
'They were pleasantly surprised. This was an unexpected side of Benny. In a way, I'm sure he wanted to go through the experience for the sake of the experience itself: to see what it feels like to be a dad, collecting his kid from school. Anything we consider everyday or mundane, he is intrigued by. And he has to be reasonably curious to put up with staying with us when you have Richard banging on the bathroom door saying, "Hurry up, Benny! I want to do a wee!"
In his mid-sixties, Benny, it appears, has the cuddly, granddad quality about him. 'When I gave birth to Richard, Benny came across London to Romford, to visit me in hospital. Not driving a car made the whole effort all the greater. I felt very honoured that he should care so much.'" (pp. 66, 68, 70-71, 75)

Sue Upton can recall the time Benny took her to see a cabaret show at London's Talk of the Town, this being long before Stringfellow turned it into the Hippodrome.
'The singing duo Peters and Lee were performing that night. But the audience was more interested in Benny's arrival. Whispers got around that he was there, and heads began to turn. People stood up and started applauding. They were just delighted to see him in the flesh.
'It was my birthday treat to be going there. Benny was particularly exhausted that night from working, and half way through the evening he dozed off at the table, head resting in hands.
'Just at the moment I noticed this, I heard Peters and Lee, on stage, saying, "We're very pleased to inform you we have a famous personality among us tonight..." In a moment of panic, I kicked Benny under the table, his arms slipped away, his head fell forwards, and he awoke with a start and a grunt.
'"Quick!" I said to him. "Stand up and bow." That was just as they finished the announcement, "...Mr. Benny Hill." Benny leaped up, wondering what on earth was happening, poor man.' (pp. 101, 104)
---
Ross, Robert. Benny Hill, merry master of mirth: the complete companion. London: B.T. Batsford, 1999.
"Sue Upton originally came into The Benny Hill Show as part of Love Machine (alongside troupe leader Libby Roberts and Claire Lutter), a sexy dance group which fashioned the style that Hill's Angels would later perfect. Upton was quickly picked out of the line-up and moulded as a supporting actress by Hill. Her comic timing impressed him, and her physical attractiveness exactly fitted the bill. Indeed, an early, very scantily clad TV Times publicity shot of Upton probably doubled the audience ratings for that weeks' show. Married to musician Roger Whatling of Tonix, Upton was, along with Louise English, cited as the most famous Hill's Angel, whereas they were usually credited separately from the rest of the group. Hill was delighted with the actress, developed more character roles for her, and despite her happily claiming the position of 'head girl', moved her career away from glamorous parts when he cast her as an aged superhero, Wondergran, battling Hill's cowardly Count Dracula. Hill's toothy vampire nearly gets hit by a car, finds himself on the wrong side of a belisha beacon and finally succumbs to Upton's dogged old lady. Of all the cast, Hill was closest to Upton, and she was happy to prance along with the other girls or sink her teeth into more meaty comic roles - one of their happiest collaborations being as Laurel and Hardy. As with her Benny Hill assignments, Upton's other credits alternated between the glamorous (What's Up Superdoc!) and the unattractive (Confessions from a Holiday Camp)." (p. 123)
---
Ross, Robert. Benny's babes - installment one: Sue Upton. [Biographical sketch of Sue included with the DVD set Benny Hill Complete And Unadulterated: The Hill's Angels Years, Set 4 1977-1981.] New York: A&E, 2006.
The perfect combination of glamour girl and character actress, Sue was equally at home playing a grouchy harridan or a seductive femme fatale on The Benny Hill Show. A valued part of the British sex comedy tradition of the 1970s, she was a bespectacled nuisance to Robin Askwith in Confessions From A Holiday Camp (1977) and a steamy gangster's moll in What's Up Superdoc! (1978). As one of the most prominent members of the Hill's Angels, Sue teased with the best of them, although she is perhaps at her best as the superhero Wondergran! One of Benny's closest friends on the show, Sue considered the star comic one of her family. Instrumental in honoring Benny with several Blue Plaques in London (one at his home and one at Teddington Studios), Sue is a dedicated charity worker with the Heritage Foundation.
---
Smith, John. The Benny Hill story. London: W. H. Allen, 1988.
"Sue made an early impact on Benny when she was dressed up as a granny, dodging wheelchairs in a crazy chase sequence which he had devised for TV.
'It was when the Belisha beacon fell on her head at a zebra crossing that I realised I had a girl with talent,' recalls Benny. 'Sue is really funny. But finding pretty girls who are talented and funny is not easy. Some of them I have to sit and talk to for an hour, encouraging them and advising them on their future. I mean, you just can't say: "Sorry, dear, you look like me in drag."
'And a lot of girls don't fancy all sorts of things being poured over them and generally having to wear very little during filming, especially in the bitter cold.'
Although the Hill's Angels frequently appear in skimpy costumes, Sue Upton insists that they are never expected to wear or do anything which they find embarrassing. 'If they think a costume is too revealing, they've only got to say so,' she says.
One girl who did feel embarrassed [...] refused to wear a very revealing string bikini for a beach sketch. 'It was just ridiculous, it barely covered you,' protested [the dancer]. 'I told Benny straight that I wasn't going to do it.'
'He was very sweet about it, and said: "O.K., dear heart." Then they got another girl to do the scene.'
This surprisingly amicable settlement of a potentially contentious situation came as no surprise to Sue Upton. 'In all the years I've known Benny I've never heard him swear, raise his voice, lose his temper or say anything disrespectful to a girl,' she claims." (pp. 110-111)
---

This page updated July 24, 2014.