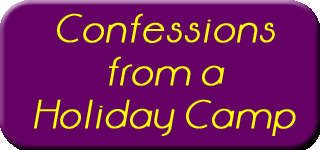 Click thumbnails for larger pictures
Confessions From a Holiday Camp, the fourth and last of the Confessions series, was filmed in March and April of 1977, at the Sunshine Holiday Centre in Hayling Island, Hampshire. (The resort is still in business, as the Mill Rythe Holiday Park.) According to the records of executive producer Michael Klinger, principal photography began March 21st, 1977: the six-week shoot was condensed to five weeks, in order to save money.
Klinger had originally intended to shoot the film on Malta, in the much warmer climate of the Mediterranean. However, budget considerations made this impossible, and an appeal from Klinger to Maltese Prime Minister Dom Mintoff appears to have gone unanswered. After the Sunshine Holiday Centre offered to provide room, board, props, and facilities to the entire cast and crew for only £1,500 for the entire shoot, the change in plans was made, and Sue and company were to be sent to Hampshire, instead of the Mediterranean.
Sue especially remembers the cold conditions during shooting. As she once said in a conversation with me about the film, "It was bloody FREEZING!" Sue's co-star Caroline Ellis recalled her experience, using the exact same four words.
Holiday Camp was made for a thrifty £289,824 (Columbia Pictures, which backed the film, had agreed to a maximum budget of £300,000), of which £3,193 were spent on costumes and wigs. Sue was surprised to hear that much had been spent on costumes, saying, "I used my own clothes — I think we all did!"
But despite the freezing conditions, and having to wear some of her own clothes, Sue looks back fondly on her experience making Holiday Camp, saying "The cast and crew were all great!", recalled "the fun we had while filming," and is happy to have been part of it.


---


In this publicity photo, Sue (third from left, striped bikini bottom) and Caroline (fourth from left, square-patterned bikini bottom)
along with the other Holiday Camp lovelies, brave the cold and offer shapely support to star, Robin Askwith.


---
Sue plays Reen, a giggly, shy girl from Birmingham. Her character was described by a later writer as "One of the two girls you remember [...] a cute bundle of glasses and blonde pigtails." She and her friend Glad (Caroline) visit the "Funfrall Holiday Camp" and enter the camp's beauty contest. When a cake and pie fight breaks out (as they do), Reen, Glad, and all the other girls wind up covered with cake.

During their scenes together, Sue and Caroline displayed a lively, charming comedic chemistry, to the extent that (as Caroline reports), "Several people on the film had commented we should do a comedy series together." But although Sue and Caroline had the same agent at the time, sadly it was not to be, and they didn't work together again.
---


Caroline has kindly sent me these publicity photos of herself and Sue. From left to right:
two photos with retired boxer Jack "Kid" Berg; with director Norman Cohen;
limbering up with hula hoops; star Robin Askwith, pumping up Caroline's chest as Sue looks on.
---


The cast and crew of Confessions From a Holiday Camp:


Sue, standing first row center (hair in ponytails)
Caroline, standing first row right (dark hair, long white coat)


---


A behind-the-scenes photo. From left to right:
Sue, Caroline, Robin Askwith, Johnny Moyce (Askwith's stand-in and "minder.")
---


This appears to be a collection of vidcaps from a compilation video of Sue's appearances in Confessions From a Holiday Camp.
I haven't been able to locate the video itself: if anyone knows where to find it, please email me.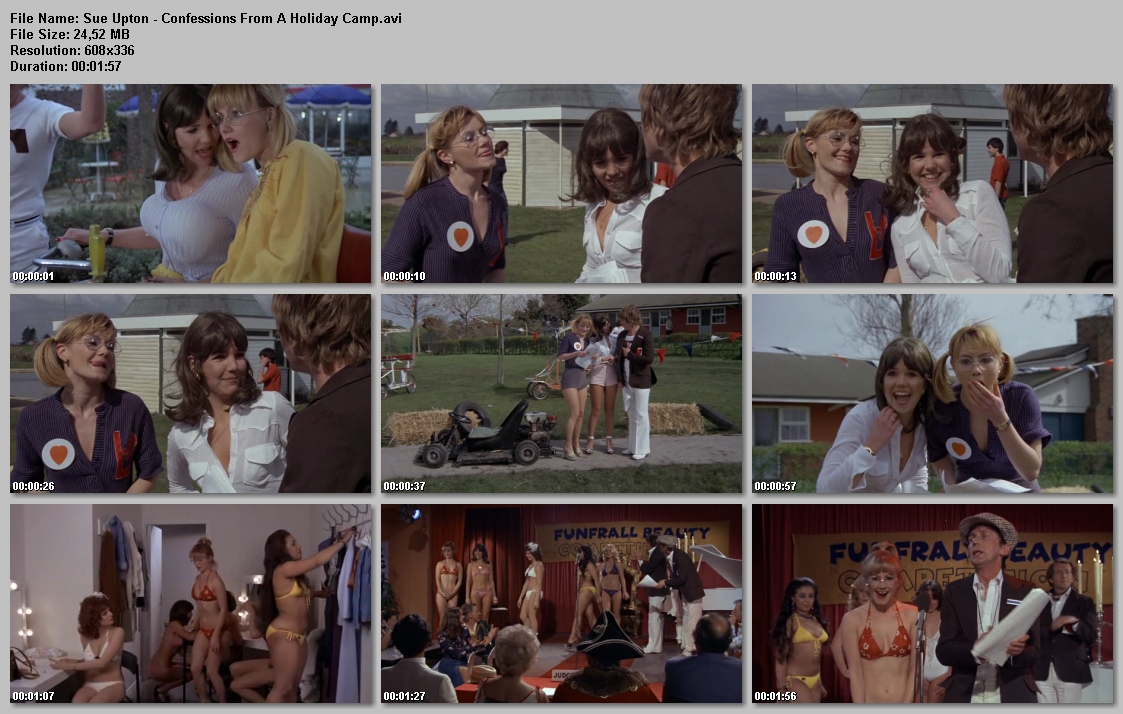 Sources:

Sheridan, Simon. Keeping the British end up: four decades of saucy cinema (rev. ed.). London: Titan Books, 2011.

Personal conversations with and emails from Sue Upton (various dates).

Jones, Martin. Psychedelic decadence: sex, drugs, low-art in Sixties & Seventies Britain. Manchester: Headpress Critical Vision, 2001.

Personal emails from Caroline Ellis (September 2019).

The Michael Klinger Papers, University of the West of England, Bristol.

"Mill Rythe Holiday Park." https://www.awayresorts.co.uk/parks/hampshire/mill-rythe/. Accessed July 13, 2023.


This page last updated July 13, 2023.