From Revue, June 14, 1980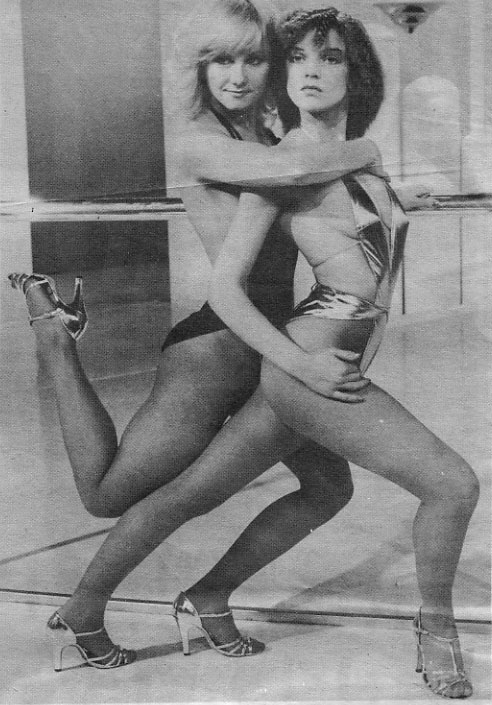 Every girl wants to be a Hill's Angel
Two who made it... Sue Upton and Leigh Miles
BENNY AND THE BIRDS
Revue telly special by MIKE WHATTON
You can always be sure of one thing about a Benny Hill telly show. There will always be sexy girls scampering around in their scanties.
It is a success formula which has kept Benny at the top of the telly tree for more than a decade. Hill's Angels are a turn-on for the men, but not too blatantly sexy to make women viewers switch off.
To be a Benny bird is the aim of the hundreds of beautiful girls who apply every year to Thames Television wanting to be in his shows. But only a very few make the grade.
Benny vets the girls personally. He says: "Everyone likes looking at pretty girls.
"But the girls in my shows are not chosen just for their looks. They are picked for their personality too."
Over the years Benny has given a kick-start to the careers of dozens of sexy stunners, like Andee Cromarty, Sue Bond and Cherri Gilham.
Bubbly green-eyed blonde Cherri says: "I loved working with Benny. It was always fun. But it was hard work too."
Sue Bond, the bustiest blonde ever to be a Benny Hill girl, says her funniest memory of of Benny Hill show was a sketch in which she appeared in a bikini.
Sue says: "I was wearing this tiny little skimpy bikini and we filmed the scene outdoors in the middle of winter. They had to melt the snow before we could film it!
"I was displaying acres of flesh and I just hoped no one spotted the goose bumps on screen."
In another show Sue had to slide down a 60ft. pole. She says: "Somehow I got stuck up the pole. There I was with my skirt round my waist hanging on for dear life."
For some of the saucy sketches, the girls often slip into silk stockings and suspenders.
But French actress Anne Bruzac - another of Benny's bosomiest beauties - won a part in a show because she refused to don sexy underwear.
Anne says: "I was asked to wear a black suspender belt. But I said I didn't think it was me. He gave me the part anyway - and Benny had the last laugh.
"I was doing a scene where I was being pushed on a swing. And although I didn't realize it, I was wearing a trick dress.
"As I started to swing the dress suddenly came right off!"
Slinky Sue Upton also came to pieces the day she squeezed her curves into a pair of skin-tight satin trousers.
Sue says: "They were so tight that they split in the cheekiest part!"
Blonde Sue has been a recent regular in the Benny Hill Show and came to TV via modeling.
She has nothing but good to say about Benny. "He is very kind to all of us," she says. "Once he took me out on my birthday to The Talk of the Town."
One of the show's lasting favourites is dark-haired Andee Cromarty. She joined the show at 22 after a stint in the sexy show Pyjama Tops. And she is still a Benny bird at 29.
Andee says: "Benny is very loyal. If he likes you and you work well he will ask you back for more shows.
"Sometimes I don't hear from him for ages. Then suddenly he will phone up, ask what I am doing, and chat for an hour and a half."
Andee, who has appeared nude on television, says: "I've worn some pretty sexy outfits on Benny's show. The outfits are very important - the whole show stops until they are right.
"But no girl is asked to wear anything she does not want to. In any case there is never anything outrageous.
"All the girls get on well together. I always knit while I'm waiting for a scene to be shot. In the last show I got all the girls knitting."
UPSET
In the last couple of Benny Hill shows, the girls have never looked sexier, the outfits have never been smaller.
And they have upset trade union women.
At the T.U.C. women's conference, they labelled Benny a Male Chauvinist Pig.
And they said they wanted to see less scantily-clad girls in his programmes.
But the 19 million viewers who always send Benny to the top of the TV ratings would never agree to that!