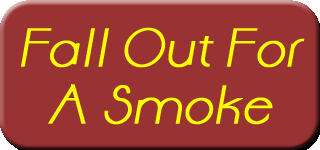 During our lunch together on February 3, 2005, Sue was kind enough to tell me a bit about the most obscure item in her CV: a training film, entitled Fall Out For A Smoke. This film was made for the British Ministry of Defence, to be shown to all new recruits to warn them of the physical dangers of smoking.
The 1981 issue of the British Film Catalogue described the film this way:
"Tells the story of a young private, whose 'close encounter of the third kind' convinces him that cigarettes have already reduced his fitness and increased his vulnerability to disease and premature death. Intended principally for young soldiers and recruits in the 15-18 age group."
According to Sue, her character appeared to the lead character in a vision or daydream. Because of the passage of time since the film was made, Sue wasn't able to tell me much more than that, but did say she remembered riding a motorcycle and wearing biker's gear. (That would make the film worth seeing, all by itself.) Between Sue's description, and the British Film Catalogue's, it seems clear that the "close encounter" described, was with Sue's character. Personally, that seems to me to defeat the film's purpose: if I thought smoking would send me "visions" that looked like Sue, I'd start tomorrow!


---
UPDATE: Fall Out For A Smoke Found!
In 2006, after a two-year search, I discovered that Smoke had been acquired by the Imperial War Museum in London, after having been transferred there from the archive of Services Sound and Video Corporation. I arranged with Mr. Roger Smither, IWM moving-image archivist, to have a DVD copy made from the original film - and during my lunch with Sue on May 24th, 2007, I had the honor and pleasure of presenting the copy to her in person. I also commissioned a copy for myself.
Sue's recollection of the film was fairly accurate, given that it was made thirty years ago. However, the "close encounter of the third kind" described above wasn't with Sue's character, as I'd originally thought. Instead, the lead actor, playing a young Private, is visited by a male extraterrestrial in human form. When the soldier challenges the alien about being in human form, he replies, "By genetic engineering, we can adopt any form we want, but we've chosen to stick to the same formula as you Earthmen. After all, there can't be much wrong with a formula that can produce a gorgeous human like that!" followed by a vision of a scantily-clad Sue.
Sue then appears later, in reality, as a girl Private Watkins meets at a dance - and she does wear biker's gear and ride a motorcycle, back with him to her (and her mother's) place. Interspersed throughout the film is advice from the extraterrestrial; shots of lung cancer operations, diseased lungs, and bronchitis victims; and two possible versions of Pvt. Watkins' future. In one version, he gives up smoking, and because of his improved performance in training and battle, is awarded a medal, promoted to Sergeant, and, it's implied, gets Sue. In the other, he continues to smoke, and as a result, dies prematurely of lung cancer. Inspired by this warning, he grinds out his cigarette and walks purposefully down the street away from Sue's place, as the film ends.
Sue was delighted to see this film after all this time, and I'm very glad to have found it and been able to present it to her. During our lunch together, she gave me a piece of funny, insider information about the filming of Smoke. According to her, the film had to be completely reshot twice, because both the original lead actor and his replacement were so bad, they both had to be sacked. Of course, Sue's performance is the highlight of the film, and I'm sure her presence helped make its anti-smoking message more appealing to its intended audience of young soldiers.


---
UPDATE #2: Smoke Screened in London
I recently found out that exactly one year ago, Fall Out For a Smoke was shown at the Imperial War Museum. Also screened along with Smoke were three other films: Think Before You Speak; To Sink a Submarine; and Shore Patrol. Most likely, these were also instructional films along the same lines as Smoke.
Although I was pleased to learn of this event, I was disappointed that neither Sue nor I had been notified in advance. I thought Sue might have been interested in possibly appearing as a special guest speaker, discussing her experiences working on the film. I plan to email Mr. Smither at the IWM, and ask him to let me know in advance, if and when Smoke is again scheduled for a public screening.



Sue Upton in Fall Out For A Smoke
Courtesy Imperial War Museum, London



This page updated May 2, 2010.