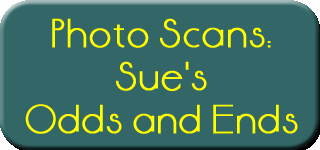 Click thumbnails for larger pictures.
---
The Black Dress
If Rembrandt had painted Sue, the result might look something like this.
---
Sue and Ian
Sue, with friend Ian Freeman, at the Heritage Foundation's Christmas dinner in November 2003.
---
Sue "Carries On Selling"

At a Heritage Foundation event in October 2003,
Sue displays memorabilia of Carry On actor Terry Scott, being sold for charity.
---
Sue Gets Nautical (But Nice)

From late September 2018:
Sue on a jet-boat excursion on the Thames, with her work colleagues.
---
Sue In 2022
Sue sent this photo, specifically so visitors to this website could have a contemporary picture of her to view.
---
Sue, Mother of the Bride
At her daughter Louise's wedding on July 19, 2008,
Sue models her "large, posh" wedding hat.
---
Sue On Facebook
A lovely quadruple portrait of Sue, found on a Facebook group devoted to the Angels.
---
Sue On Telly
My friend and fellow Sue-fan Mark Cox sent this evocative screen capture of Sue,
from an April 2014 repeat of the documentary The Unforgettable Benny Hill.
---
Sue's (and Rosie's) Lockdown Locks
June 2020: the COVID-19 lockdown still grips Britain, and neither Sue nor her faithful dog Rosie have seen a stylist for months.
Sue writes: "[H]ere is me with my fat dog Rosie, lying by my side in my lounge, sorry she would not rise to the occasion, ha ha!"


---
Sue's Birthday Bash
From Sue's birthday in November 2021.


---
Sue's Birthday Bouquet
From Sue's birthday in November 2022: a lovely bouquet for a lovely lady.

---
Any more pictures of Sue? Email Erik Larsen.