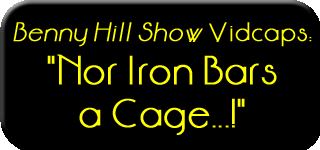 Click thumbnails for larger pictures




On January 26, 1977, Sue Upton made her Benny Hill Show debut in this filmed sketch. (She also appears in the "Bionic Baby" sketch which concludes this episode.) Benny, Jackie Wright, and Eddie Connor play three convicts who escape separately from prison, join up on the outside, and attempt to commit crimes, before being recaptured.

Sue's seen first as one of three girls (right) sharing Benny's prison bed, before a female guard arrives and turns them all out. The other girls are Jenny Lee-Wright, left, and Jenny Westbrook, center.





Sue's then seen wearing a long black wig, as Benny's girlfriend visiting him in prison. Sue's confirmed that this is indeed her: she writes, "In the early years [of The Benny Hill Show] we always had to wear wigs to change our image."





After Benny, Jackie, and Eddie escape, they attempt to rob a bank. Sue appears as a violinist whose case is accidentally switched with Jackie's — leading to a surprise for Sue when she arrives at her rehearsal!





Our three protagonists are recaptured by policewoman Jenny Lee-Wright and others, and bundled into a police van. But the sight of three beautiful hitchhikers (blonde Sue, brunette Jenny Westbrook, and redhead Suzy Mandel) causes the van to come to a sudden screeching halt, and Benny and cronies to attempt an escape. At least, until the girls' sexy, come-hither poses lure them back into the van! Benny gives each of the girls a "cheeky" hand up into the van before the doors close; the van (now with "The End" painted on the rear doors) roars off into the distance, ending the sketch but getting Sue's long association with Benny off to a fine, funny start.





Sources:

Personal communication from Sue Upton, December 21, 2015.
Benny's Place Featuring Louise English and Hill's Angels (http://runstop.de/set03b.html), accessed December 20, 2015.