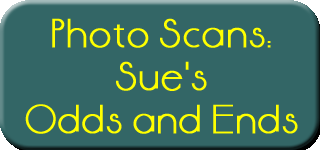 Click thumbnails for larger pictures
---
The Black Dress
If Rembrandt had painted Sue, the result might look something like this.
---
Sue and Ian
Sue, with friend Ian Freeman, at the Heritage Foundation's Christmas dinner in November 2003.
---
Sue "Carries On Selling"

At a Heritage Foundation event in October 2003,
Sue displays memorabilia of Carry On actor Terry Scott, being sold for charity.
---
Sue, Mother of the Bride
At her daughter Louise's wedding on July 19, 2008,
Sue models her "large, posh" wedding hat.
---
Sue On Telly
My friend and fellow Sue-fan Mark Cox sent this evocative screen capture of Sue,
from an April 2014 repeat of the documentary The Unforgettable Benny Hill.
---
Any more pictures of Sue? Email Erik Larsen.