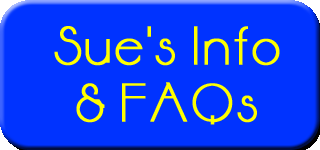 Sue Upton was stage-struck from a very early age. As a young girl, in addition to her normal education, she attended the Finch Stage School, where her first performing experience came in a production of Snow White and the Seven Dwarves. At the start of her audition speech, she stumbled over her words: "Stop right there," said the teacher. "You've got the part: you're Dopey." And a star was born!
After this auspicious start, Sue continued with her education and her performing-arts training, and graduated from the Finch Stage School, where at the age of sixteen, she'd qualified as a teacher of dancing. Sue decided, however, that a performing career was more to her liking. After graduation, Sue worked in show business as an actress, dancer, and nightclub singer; she also did modeling work, specializing as a hand and foot model. (Sue says of her modeling career: "I don't think the public realize that models are specified in various parts of the body, and that there's just as much money to be made in showing your hands and your feet as there are in showing anything else!")

In the mid-1970s, Benny Hill was seeking beautiful, talented female performers to form a dance troupe on his show. Sue's agent at the time submitted a photo of her, and Benny invited her to audition at his flat in London. Sue passed the audition, and made her debut on The Benny Hill Show in January 1977. Her comic talent and timing were soon recognized, and she became a respected member of Benny's stock company for the next fourteen years. Besides taking part in the Hill's Angels' sexy dance routines, Sue also played comic character parts such as the geriatric superheroine, "Wonder Gran," and even appeared in drag, playing Stan Laurel to Benny's Oliver Hardy.

During the years Sue appeared on The Benny Hill Show, her relationship with Benny developed from that of an employee to an employer, into a mutual friendship. For that reason, Benny's sudden death in 1992 was a great loss to Sue, and she decided to retire from show business at that time. In the intervening years, Sue's appeared on radio shows and television documentaries, talking about Benny and her time on his show with fondness, respect, and affection. (See Sue's Credits for a complete listing of all her known appearances in movies, television, theater, and even a music video.)

Sue currently lives east of London, with her husband and Rosie, her Cavachon dog. In recent years, she's kept busy with charitable work on behalf of the Heritage Foundation. Of Sue's charity work, her talent for selling raffle tickets has attracted considerable praise: one observer notes, "[Sue] sells a mean raffle ticket," while another goes further, saying, "Her raffle-ticket selling skills are legendary - I have succumbed many times myself..."

In Sue's spare time, she enjoys traveling, gardening, cycling, playing and watching tennis, and watching boxing. (Sue was a particular fan of heavyweight champion Lennox Lewis, before his retirement.) Besides English, Sue also speaks French ("I enjoy the French lingo and trying to make myself understood," she says) and a little German - but she admits that her German "spelling is not so good." She describes herself as "just an ordinary, nice girl, who likes to laugh, likes to please people, and likes to make them laugh."

Q. Does Sue keep in touch with any of the other Angels?
A. Only with Louise English, one of her best friends on the show (the other was Jane Leeves).

Q. What is Sue's email address?
A. Sorry, Sue's asked me to keep that confidential. If you'd care to email me, I'll pass the message on to Sue, provided it's within reasonable bounds of good taste.

Q. Is there an address to send Sue fan mail?
A. Fan mail for Sue can be sent to:

Sue Upton
c/o Ian Freeman
PO Box 24382
London
SW17 7FP
United Kingdom
If a response is wanted, please enclose a self-addressed envelope (with stamps if mailing from Great Britain; an International Reply Coupon if mailing from elsewhere).






Info and FAQs: Erik Larsen
This page last modified March 26, 2016.