Click thumbnails for larger pictures
Confessions From a Holiday Camp, the fourth and last of the Confessions series, was filmed in February and March of 1977, at the Sunshine Holiday Camp in Hayling Island, Hampshire.

(The resort is still in business, as the Mill Rythe Holiday Village, should any fans of the film care to make a pilgrimage there.)

Sue especially remembers the cold conditions during shooting. As she once said in a conversation with me about the film, "It was bloody FREEZING!"


In this publicity photo, Sue (third from left, striped bikini bottom) and the other Holiday Camp lovelies brave the cold and offer shapely support to star, Robin Askwith.



Sue plays Reen, a giggly, shy girl from Birmingham. Her character was described by a later writer as "One of the two girls you remember... a cute bundle of glasses and blonde pigtails."
She and her friend Glad (Caroline Ellis) visit the "Funfrall Holiday Camp" and enter the camp's beauty contest. When a cake and pie fight breaks out (as they do), Reen and all the other girls wind up covered with cake.






This appears to be a collection of vidcaps from a compilation video of Sue's appearances in Confessions From a Holiday Camp.

I haven't been able to locate the video itself: if anyone knows where to find it, please email me.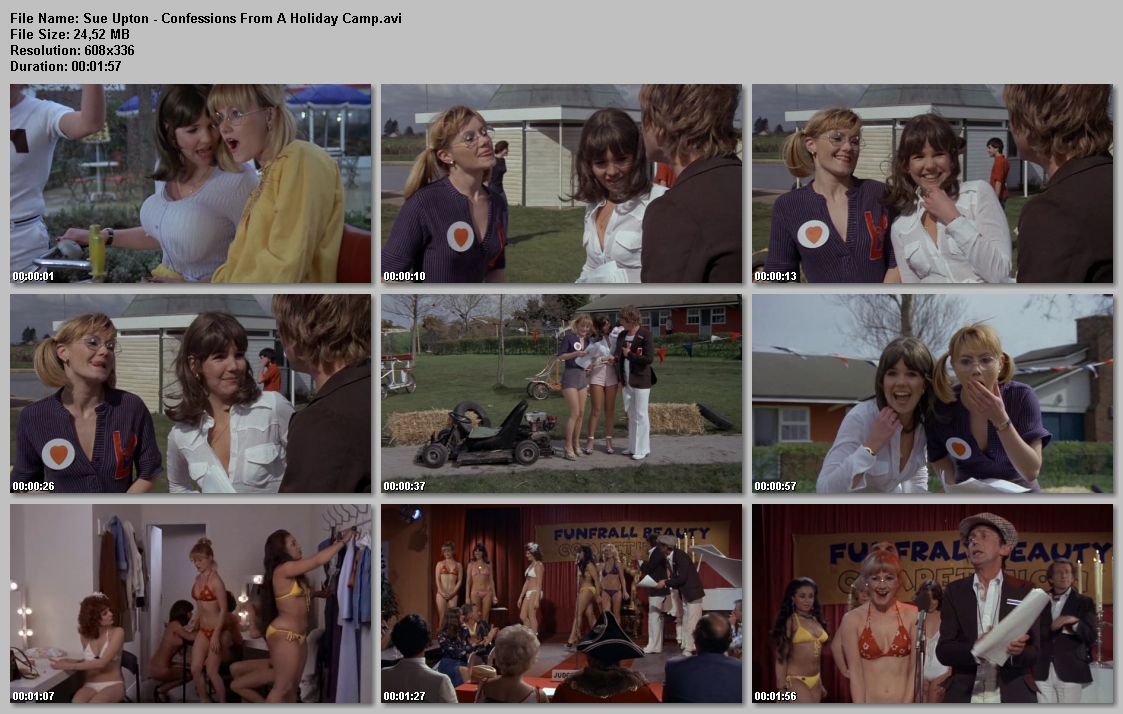 Sources:
Sheridan, Simon. Keeping the British end up: four decades of saucy cinema (rev. ed.). London: Titan Books, 2011.
Personal conversations with and emails from Sue Upton (various dates).
Jones, Martin. Psychedelic decadence: sex, drugs, low-art in Sixties & Seventies Britain. Manchester: Headpress Critical Vision, 2001.